Don't waste your money......
here's what to do..............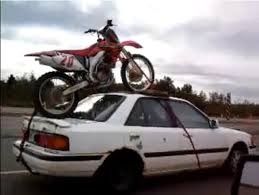 But seriously, although I've never had a van, I reckon if budget allows, first choice would be to have a transit size van purely for trail riding. I'd go for one with a tailgate rather than the double doors to keep the rain off when unloading / getting changed etc. it would be great to keep riding gear, tools, spares etc and maybe even the bike in the van permanently all ready to go.
2nd choice would be to use a transit size van that you have easy access to. Perhaps a work van or a friends van that it is possible to borrow. The down side is that it'll probably need the work gear removing before and after use. I have hired one before and it's just too much bother collecting / returning it and all the time the paperwork seems to take when picking it up.
3rd choice would be a 4 x 4 with a scooter rack on the back. I had a Hilux as a company vehicle for a while and I thought it was great.
Upsides
Enough room in the back to just push the work gear to the front and load the bike gear in behind it.
No issues with speed limits.
No issues with towbar weight limits
The rack detached and could go in the back of the truck when riding and was easy to store in the garage when not in use.
Downsides
Like a trailer, it advertises that you've got the bike.
Also like a trailer, if driving on roads that have been gritted and it's now melted, the very fine salty spray chucked up from the truck when bombing down the motorway must surely find its way into places that it wouldn't when riding the bike??? Maybe???
When the bike is on the rack you can't access the back of the truck.
4th choice is a trailer. This is what I have.
Upsides
Only extra cost is a towbar and the price of the trailer
Easy to wash the worst of the crud of bike on the way home at a garage without taking the bike off the trailer.
Downsides
Storing it - although I now have a collapsible trailer which really helps and it will go in the car when I'm riding.
The points mentioned with a scooter rack
Basically – it ain't a van.
That's my thought anyway
Steve