Despite not actually being part of the TRF "executive" I've been to quite a few exec meetings over the years (as a stand in for the Cambs Rep or as RoW Advisor etc). Although there's no doubt that this is a first class way of finding out what's going on nationally and generally a very sociable experience it doesn't usually involve any actual trail riding. At least it didn't used to!
The latest trend however is for groups to host the Exec meeting on the Sunday but also to offer a guided ride for those attending on the Saturday.
I believe that this is an idea developed by the Devon group originally but keen to do their bit for the TRF the Cambs Group offered to do the same for the January meeting.
Now I should say at his point that I played no part in this plan at all as I am
a
) very lazy and
b
) never go to group meetings or put any effort into helping with the group at all! Something that you'll be pleased to know that I am rightly ashamed of
.
So, when Chairman Mike phoned me up in the week to ask whether I'd be prepared to pull my finger out and actually help for change I felt honour bound to say yes. Fortunately for me all he wanted me to do was lead the Saturday run!
Talk about easy life
. As jobs go riding you bike and having fun is hardly an onerous task is it so of course I was up for it.
Having managed to turn up uncharacteristically early (well by about ten minutes) I was greeted by an enthusiastic mix of both local and not so local riders assembled in a car park in Pidley.
There was about ten minutes of rather chilly tarmac riding to get to the first lanes near Chatteris and then we headed out toward Ely taking in a pretty extensive network of byways in the process.
I wont bore you by trying to list all of the thirty or so lanes that we did, I'll just post some photos and let them speak for themselves. Suffice to say however that it was cold, wet and in places very, very muddy but thats the Cambridgeshire Fens for you!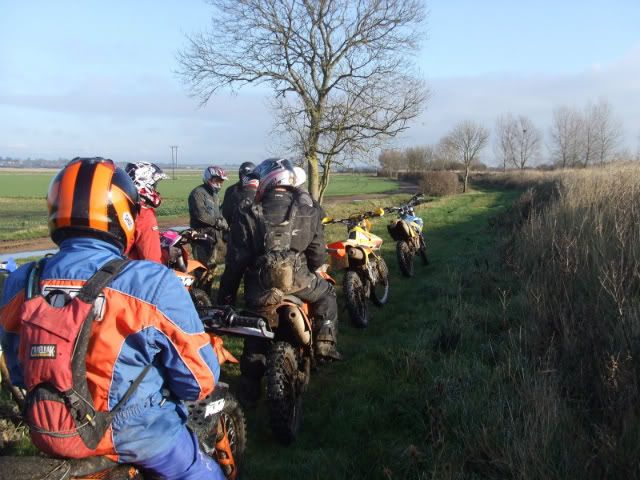 Of course not all Fenland Lanes are tractor infested "mud motorways". North Fenside is a very attractive and genuinely "green" lane that's been extensively repaired by the council in recent years. It's also protected by a seasonal TRO (for vehicles with more than two wheels).
Mind you the good conditions didn't stop me from dropping my bike on the new wooden bridge that the council had built! Doh!
Now what was I saying about "mud motorways"?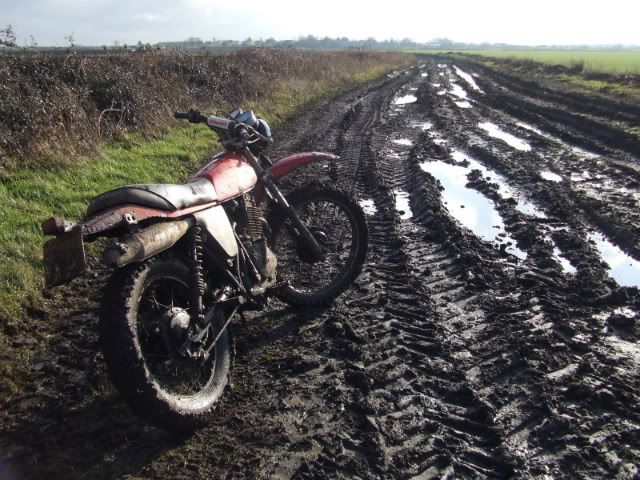 This is Lynn Drove and as I think you can see from this photo the antis may claim that bikes are the cause of surface damage to byways but the truth is often quite different. That motorbike did
not
make those ruts!! Just look at the tread pattern. I rather suspect that it had more to do with the massive 4x4 tractors and trailers that the local farmers use to haul in the sugar beat harvest.
And just for contrast a rather more grassy lane to the north of Ely.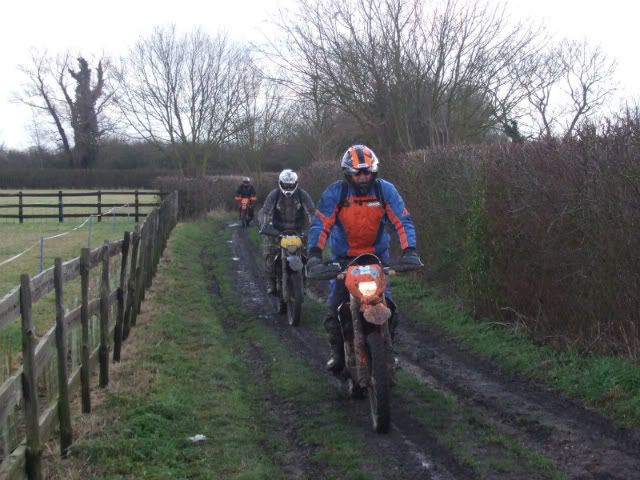 Mind you, what this photo doesn't show is how "poached" by horse hooves the preceeding section was. Of course I have no problem with that, horse riders have every right to ride green lanes but it's interesting how the damage they cause seems to be so much less of a political issue than a few bike tracks isn't it.
Ohh well funny old world.
Moving on,
Again, another lane which is has been much improved by both repairs and a seasonal TRO (for 4 wheelers). It still gets tractor use in places though and the difference in condition is very apparent.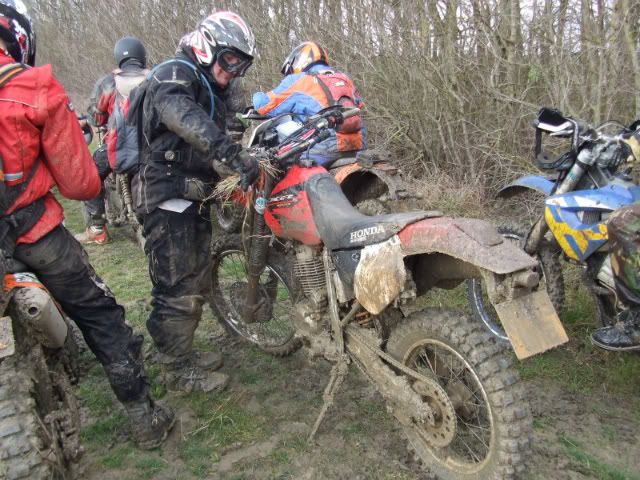 Errm, strange. Jack seems to have got a large ammount of mud stuck to the end of his handle bars. I wonder how that happend?
Seem as though I may not have been the only rider to lay my bike down for rest after all
Wasn't all mud and glory though I'm pleased to say. Plenty of the lanes were well surfaced (if unfortunately strewn with litter anywhere near a main road).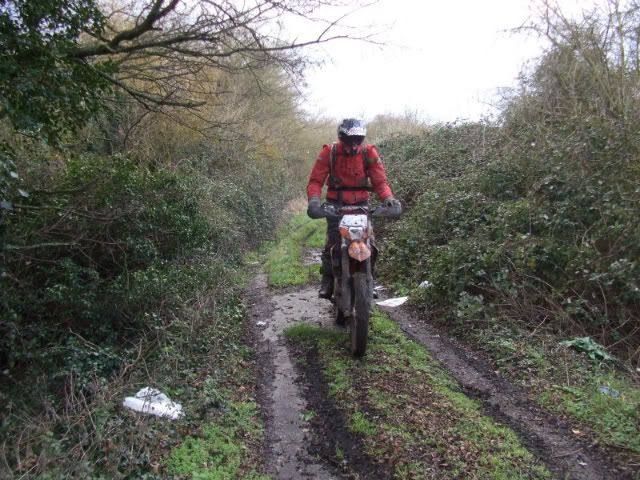 Anyway, here's a couple more photos that I think sum up the ride nicely.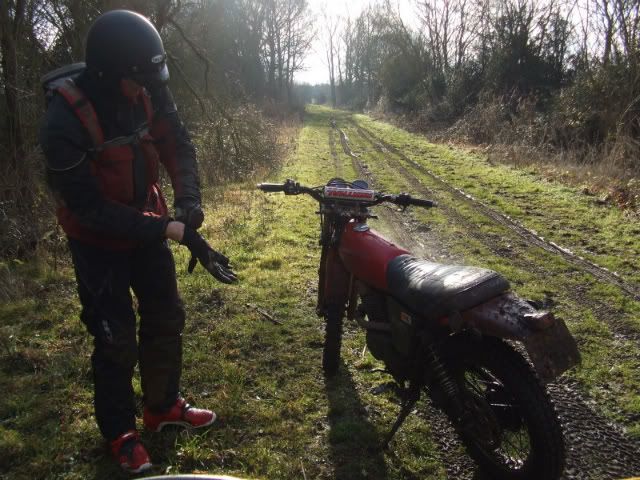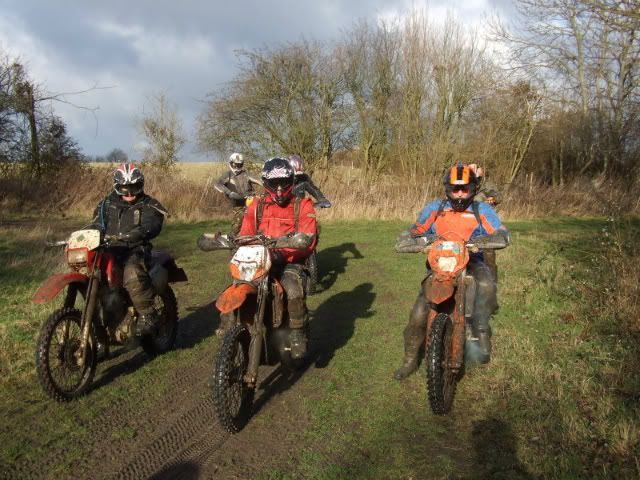 So, all in all great fun was (hopefully) had by all and we even managed to pick up a potential new member along the way (greetings James if your reading this - look forward to seeing you again soon mate).
Unfortunately despite my best intentions I never actually made it to the Exec meeting on the Sunday so for that I appologise but hopefully I managed to entertain those who turned up on Saturday with a good run and my unusual, arms and legs all over the place riding style (which I'm going to blame on the fact that my back brake stopped working after about three lanes but which you can blame on my inherent inability to ride a motorbike if you like).
Cheers
Richard