I was intending on keeping this for a few more years but a friend selling his LC version was too good an opportunity to miss.
Last of the oil cooled version with twin cams etc.
It's well used but, I'd like to think, well looked after and maintained. It's done the miles but regular applications of ACF50 have been pretty good at keeping the finish. Most of the miles have been done solo. Roughly 15k with luggage. 4k with pillion and luggage. Been used mainly on the road but also on a few easy green lanes in the Peaks and some trails in Portugal. Difficult to value as I can't find any others with this mileage. £4800, frankly it's a bargain. I'm in no rush.
BMW R1200 GS Adventure. 2010.
MOT May.
Full spec. ESA, ABS, traction control, hand guards, spot lights, sump guard, crash bars, cylinder head guards, etc.
Aluminium panniers.
Yellow
Approaching 71,000 miles.
I bought it at 10 months old with 1,400 miles on the clock.
Dealer serviced when in warranty.
Self serviced since. I can print off fault code reports for each service.
Checks, resets, abs pump bleeding etc. done using my GS911. Balancing done with a Twinmax.
Now approaching major service. I have all the parts, can do a service/inspection reset if needed.
All recalls done. From memory fuel pump and rear brake carrier.
Recently replaced fuel gauge strip by dealer to include warranty.
LH heated grip replaced last autumn.
Extras (SM = self made)
Sargent low seat and pillion seat. Standard seats included, hardly used.
Givi top case plate and Trekker case.
Front mudguard extension.
Garmin 660 Zumo mount. SM
Mudsling rear suspension splash guard.
Bar end throttle lock.
Wonderlich cylinder head protection bars.
Baglux tank cover.
Sidestand foot.
Centre stand / exhaust shield. SM
Auxiliary rear side/brake led lights.SM
HID dipped headlight.
Headlight protector. SM
Auxiliary led lights on panniers. SM
Throttle potentiometer guard.
Loud horn.
Tool tube.
Oil cooler guard.
Footpeg rubbers.
Rear mudguard extension. SM
Nippy Norman's Oil bottle.
Oddessey battery.
RG rear drive protector.
Hand guard extensions. SM
Extra power socket.
Fusebox.
Haynes Manual (near useless).
ACF 50 coated every autumn and early spring.
Issues
Slight flaking on top of RH valve cover.
The bike with panniers and topbox...
...without...
Auxillary rear and brake lights...
Pannier LEDs...
...with quick release waterproof fittings.
Slight flaking on one cover (bike was in need of a clean here too).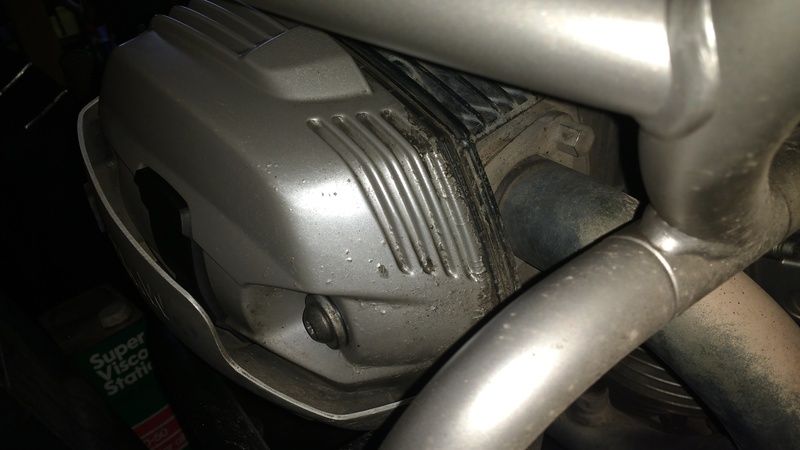 More photos and information available on request. PM or post here please.